"Creating global citizens of the future."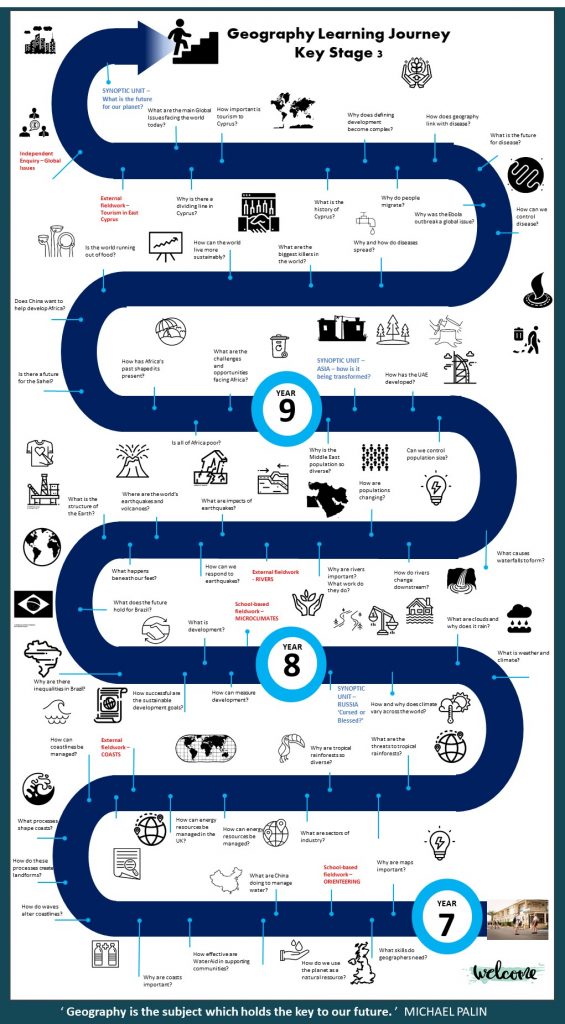 Welcome to geography at King Richard School!
"Geography is a subject which holds the key to our future" – Michael Palin
There has never been a more important time to learn geography, our world is facing a range of new opportunities and challenges at scales ranging from local issues such as housing demand and deprivation to global issues such as ocean pollution or globalisation. At King Richard School we aim to provide an inspirational and transformative Geography curriculum which provides all pupils with a deep and rich understanding of the world in which they live, its people that live here and the natural processes that shape our planet. We believe that Geography underpins a lifelong conversation about earth as the home of humankind and it is this deep understanding we want to see in our pupils so they can contribute responsibly now and in the future.
Geography is a dynamic subject, constantly changing and adapting and as such we want our curriculum to represent this and want our pupils to be able to be tenacious enough to adapt accordingly. Staying contemporary is important to us and so frequent reviews of topics and case studies will take place to keep our curriculum as relevant as possible through contextualised and enriching experiences that will stretch our students ambitions.
Our detailed curriculum map shows how students follow an exciting journey of geographical learning right from the start of year 7 through to GCSE and then onwards to A Level study.
GCSE geographers follow the AQA A Geography course.
Exam board website: http://www.aqa.org.uk/subjects/geography
We begin GCSE with a look at a modern phenomenon. Last decade for the first time in human kinds history over 50% of all people live in an urban area. The process of urbanisation and the rise of the megacities is changing the shape of our planet and creating many new challenges and opportunities that our geographers will study.
Next up we look at our living world, from the small ecosystems of the UK to the rainforests of South America and the cold environments of the polar and tundra regions we look at the characteristics of these environments and the impacts humans are having on them.

 

These leads into an in depth study of the physical processes that have shaped the UK both at the coast and through rivers. Students find out about the unique landforms these processes cause and again link this to the actions of people and look at how we might manage these moving forward.
Course structure

 

· Paper 1: Physical Geography – 1 hour 30 minutes – worth 37.5%

· Paper 2: Human Geography – 1 hour 30 minutes – worth 37.5%

· Paper 3: Fieldwork and skills – 1 hour 15 minutes – worth 25%

This popular course offers:

· engaging and topical content

· a stimulating blend of traditional and contemporary Geography to suit students of all abilities

· the study of physical and human Geography in discrete, self-contained topic areas

· a focus on physical processes and factors that produce diverse and dynamic landscapes over time.

Study of this course will give students of all backgrounds the opportunity to develop:

· communication skills

· graphical and cartographical skills

· technological skills including ICT and GIS

· interpersonal skills through debate and discussion

· literacy and numeracy skills

· problem-solving skills

· entrepreneurial skills and awareness of career possibilities
Useful resources:
A -Level
Year 12 OCR New Course
 Specification OCR – H481
Content – Y12
Migration
Dry Landscapes
Power & Borders
Earths Life Support Systems
Changing Places, Changing Spaces
Content – Y13
Place – Space
Natural Hazards
Assessment:
Physical systems (01) 22% 1 hour 30 minute written paper
Human interactions (02) 22%  1 hour 30 minute written paper
Geographical debates (03) 36% 2 hours 30 minute written paper
Investigative geography (04/05) 20% Non-examination assessment (NEA)
Homework:
All homework is in the form of exam practice questions which are marked and reflected upon.
Useful resources:
People and the Planet http://www.peopleandplanet.net
Multimap Search for place names and postcodes – download travel directions
Street Map Zoom in on any UK area by entering a place name, postcode, grid reference or tel code
Ordnance Survey OS map info
Environment Agency Variety of environmental information
Geographical – The Magazine Topical geography items
USGS Geologic Information – Deserts Information about deserts
USGS – Earthquakes Information about earthquakes
The Online Guides: Meteorology Info about meteorology
National Hurricane Centre – National Hurricane Centre, Miami, Florida
Volcano World Good source of volcanic case studies