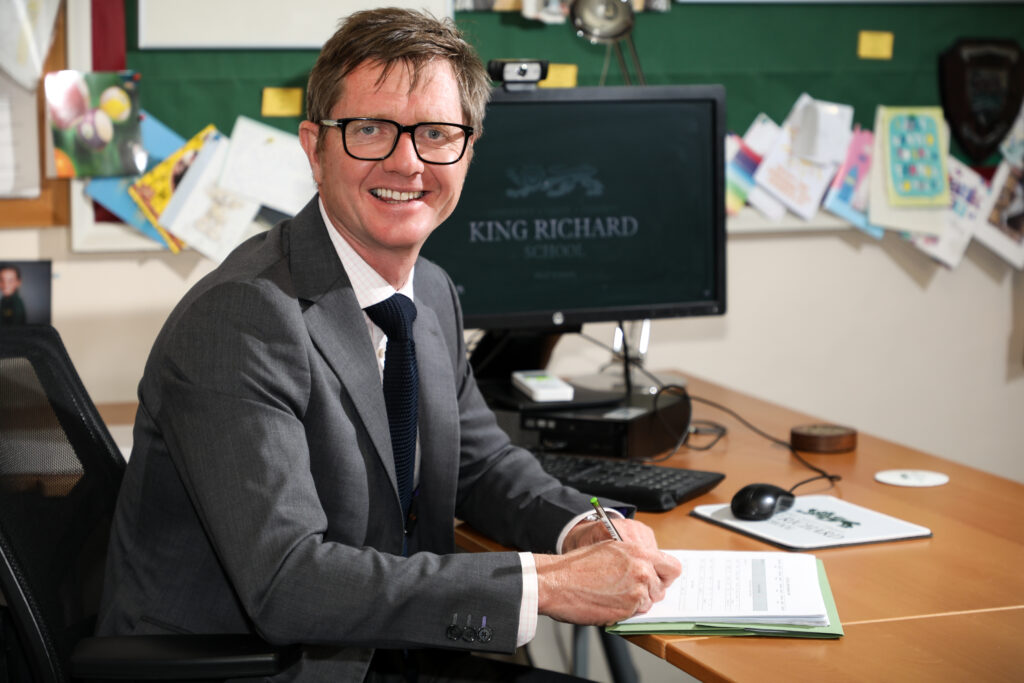 I am delighted to welcome you to our website and to King Richard School. KRS is a 11-18 state secondary schools serving the community in British Forces Cyprus (BFC). 
We have wonderful facilities in excellent school buildings, which overlook the Mediterranean Sea in Dhekelia (Eastern Sovereign Base Area)
With such excellent learning conditions, we expect and achieve outstanding results. Our GCSE results, levels of progress from KS2 to KS4 and Progress 8 scores are year on year significantly above the national average and usually within the top 5% of all school nationally. This progress is also in evidence at Key Stage 5 
We are very pleased that King Richard School has been rated by Ofsted/HMI as 'Outstanding' at our last inspection in 2017, which followed an 'Outstanding' judgement in 2013. This is testament to the dedication of our UK trained teachers and locally employed support team, personalised approach, excellent facilities and class sizes that are very small in number by UK standards. As a school we are open facing and use links and affiliations of UK organisations to ensure our practices enable us to be leaders in a number of educational fields. 
As a Ministry of Defence School, we are used to high levels of student mobility and make it our aim to personalise our curriculum as far as possible to ensure success for all. In addition to children from Service families, we also have a small number of fee–paying students at KRS who join us from the local Cypriot communities. Whether you are entitled to a free place or wish to join us as a fee–paying student, details can be found here about the application process. 
Our aim is to ensure that students enjoy a curriculum that is relevant and combines skills, knowledge and cultural capital to ensure they can move on to aspirational next steps. We aim to offer this in a challenging, supportive and caring environment 
Our school ethos is underpinned by our values of Excellence, Learning and Leadership and we know that it is these qualities that will help our students be resilient, successful, aspirant and responsible in their lives whilst living in Cyprus and beyond. Our extra-curricular programme is integral to the offer that we make to our students. This includes a range of opportunities in music sport, academia and leadership. 
MOD Schools are part of the Department for Children and Young People (DCYP) in the UK Ministry of Defence. Please do not hesitate to contact us if you would like to learn more or view our prospectus. 
Richard Sproson BA (Hons), PGCE, NASENCO, NPQH
Head Teacher – King Richard School